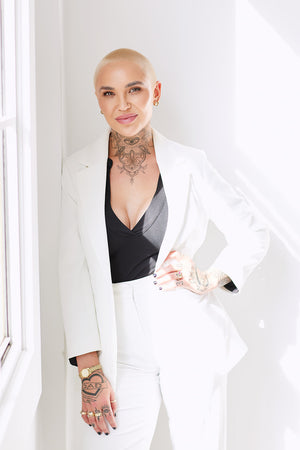 Founder, Soul Creator & Holistic Medical Aesthetician of Be Aligned Studios.

Mish's passion for a glowing skin is just as strong for her passion of a glowing soul. Her approach is different than most Medical Aesthetics services as she brings her raw (holistic) & medical aesthetic practices to light. Her Metis ancestry & spiritual background has influenced her practices & it is a very unique part of her treatments.

Mish is certified & trained in
DMK Therapist, x4, Facial Reflexologist, Lymphatic Drainage, Chemical Peel Certified, Advanved Chemical Peels, x3 Certified Microbalding Artist, x3 Microneedling Practitioner, Gua Sha, Facial Massage & Facial Sculpting Certified, Intra Oral Massage Certified, x3 Laser Certified, SkinPen Certified, Medical Aesthetician Certified, x2 Dermaplaning Cert, Access Bars

Her passion shows through her work & client care & in her treatment room, details & moments mean the most to her & when you experience it you will fully understand..